Here at EOL, we're excited about all the great programs coming up this month! Before we get started with that, just a reminder that the library will be closed in observance of Labor Day Saturday, Sunday, and Monday September 2-4th. Additionally, the library will not begin Winter Hours until Sunday, September 10th. We'll be open 1pm-5pm that day and hours will be as follows: Mon, Tue, and Thu: 9am-9pm, Wed: 9am-6pm, Fri-Sat: 9am-5pm, and Sun 1pm-5pm.
The UAB Neuroscience Café returns on Thu, Sep 14th at 6:30pm with an update on Parkinson's Disease research. On Tue, Sep 19th, you won't want to miss Documentaries After Dark. We'll be screening the conservation/green burial movement documentary,
A Will for the Woods
, with a Skype Q & A session with one of the filmmakers! The Community Conversation on Aging series returns Tue, Sep 26th at 10am with a discussion of wills, trusts, and banking in relation to aging.
The next Genre Reading Group meeting will be on Tue, Sep 26th at 6:30pm and the topic up for discussion is photography. There is a selection of books on display at the second floor reference desk but you are always welcome to make your own selection!


Last evening, GRG took to the stage for discussion of plays:


Arcadia
by Tom Stoppard
Arcadia takes us back and forth between the nineteenth and twentieth centuries, ranging over the nature of truth and time, the difference between the Classical and the Romantic temperament, and the disruptive influence of sex on our orbits in life. Focusing on the mysteries―romantic, scientific, literary―that engage the minds and hearts of characters whose passions and lives intersect across scientific planes and centuries, it is "Stoppard's richest, most ravishing comedy to date, a play of wit, intellect, language, brio and . . . emotion. It's like a dream of levitation: you're instantaneously aloft, soaring, banking, doing loop-the-loops and then, when you think you're about to plummet to earth, swooping to a gentle touchdown of not easily described sweetness and sorrow . . . Exhilarating" (Vincent Canby, The New York Times).


Incident at Vichy
by Arthur Miller
In Vichy France in 1942, eight men and a boy are seized by the collaborationist authorities and made to wait in a building that may be a police station. Some of them are Jews. All of them have something to hide—if not from the Nazis, then from their fellow detainees and, inevitably, from themselves. For in this claustrophobic antechamber to the death camps, everyone is guilty. And perhaps none more so than those who can walk away alive.


In Incident at Vichy, Arthur Miller re-creates Dante's hell inside the gaping pit that is our history and populates it with sinners whose crimes are all the more fearful because they are so recognizable.
"One of the most important plays of our time . . . Incident at Vichy returns the theater to greatness." —The New York Times


Hamlet
Hamlet is Shakespeare's most popular, and most puzzling, play. It follows the form of a "revenge tragedy," in which the hero, Hamlet, seeks vengeance against his father's murderer, his uncle Claudius, now the king of Denmark. Much of its fascination, however, lies in its uncertainties.


Metamorphosis
by Franz Kafka
The Metamorphosis (original German title: "Die Verwandlung") is a short novel by Franz Kafka, first published in 1915. It is often cited as one of the seminal works of fiction of the 20th century and is widely studied in colleges and universities across the western world. The story begins with a traveling salesman, Gregor Samsa, waking to find himself transformed into an insect.


Long Day's Journey Into Night
by Eugene O'Neill
Written around 1940, but not staged until 1956, this autobiographical work by the Nobel Prize-winning playwright recreates his own family experience, in an attempt to understand himself and those to whom he was tied by fate and love.


The Royal Hunt of the Sun
by Peter Schaffer (not available in the JCLC system)
"This story is about ruin and gold," says the old man who narrates the story. And what is fascinating is the way Pizarro and his small band of 16th century Spanish conquerors view the Inca civilisation largely as a source of imperialist plunder. They are indifferent to its communal values, turn its priceless treasures into liquid gold and see Christianity as an instrument of power. Drawing his facts largely from Prescott's History of Peru, Shaffer uses the past as a metaphor for mankind's endless colonial instinct.


Hamilton: The Revolution
by Lin-Manuel Miranda
Winner of the 2016 Pulitzer Prize for Drama and Eleven Tony Awards, including Best Musical

Lin-Manuel Miranda's groundbreaking musical Hamilton is as revolutionary as its subject, the poor kid from the Caribbean who fought the British, defended the Constitution, and helped to found the United States. Fusing hip-hop, pop, R&B, and the best traditions of theater, this once-in-a-generation show broadens the sound of Broadway, reveals the storytelling power of rap, and claims our country's origins for a diverse new generation.

Hamilton: The Revolution gives readers an unprecedented view of both revolutions, from the only two writers able to provide it. Miranda, along with Jeremy McCarter, a cultural critic and theater artist who was involved in the project from its earliest stages--"since before this was even a show," according to Miranda--traces its development from an improbable perfor­mance at the White House to its landmark opening night on Broadway six years later. In addition, Miranda has written more than 200 funny, revealing footnotes for his award-winning libretto, the full text of which is published here.

Their account features photos by the renowned Frank Ockenfels and veteran Broadway photographer, Joan Marcus; exclusive looks at notebooks and emails; interviews with Questlove, Stephen Sond­heim, leading political commentators, and more than 50 people involved with the production; and multiple appearances by Presi­dent Obama himself. The book does more than tell the surprising story of how a Broadway musical became a national phenomenon: It demonstrates that America has always been renewed by the brash upstarts and brilliant outsiders, the men and women who don't throw away their shot.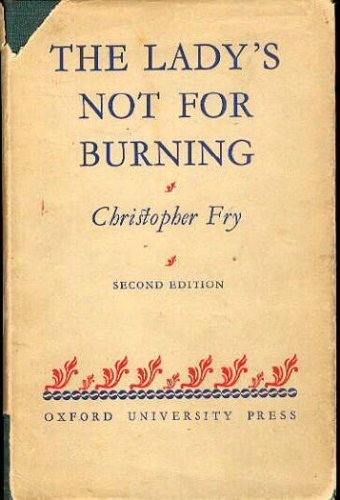 The Lady's Not For Burning
by Christopher Fry
The Lady's Not for Burning
, a verse comedy in three acts by
Christopher Fry, was produced in 1948 and published in 1949. Known for its wry characterizations and graceful language, this lighthearted play about 15th-century England brought Fry renown. Evoking spring, it was the first in his series of four plays based on the seasons. (The others are
Venus Observed
[1949; autumn],
The Dark Is Light Enough
[1954; winter], and
A Yard of Sun
[1970; summer].)