Wow, what a meeting last night to discuss Women's History Month! It was one of the most diverse groups of books I can remember in GRG, ranging across subjects and time periods! What could have been such a narrow focus was instead a vast swath of history and culture.
Remarkable Creatures by Tracy Chevalier
(amazon.com) On the windswept, fossil-strewn beaches of the English coast, poor and uneducated Mary Anning learns that she has a unique gift: "the eye" to spot fossils no one else can see. When she uncovers an unusual fossilized skeleton in the cliffs near her home, she sets the religious community on edge, the townspeople to gossip, and the scientific world alight. After enduring bitter cold, thunderstorms, and landslips, her challenges only grow when she falls in love with an impossible man.

Mary soon finds an unlikely champion in prickly Elizabeth Philpot, a middle-class spinster who shares her passion for scouring the beaches. Their relationship strikes a delicate balance between fierce loyalty, mutual appreciation, and barely suppressed envy, but ultimately turns out to be their greatest asset. Remarkable Creatures is a stunning historical novel that follows the story of two extraordinary 19th century fossil hunters who changed the scientific world forever.
Grace &Grit: My Fight for Equal Pay and Fairness at Goodyear and Beyond by Lilly Ledbetter and Lanier Scott Isom
(amazon.com) Lilly Ledbetter always knew that she was destined for something more than what she was born into--a house with no running water or electricity in the small town of Possum Trot, Alabama. In 1979, when Lilly applied for her dream job at the Goodyear tire factory, she got the job--one of the first women hired at the management level. Nineteen years after her first day at Goodyear, Lilly received an anonymous note revealing that she was making thousands less per year than the men in her position.


When she filed a sex-discrimination case against Goodyear, Lilly won--and then heart-breakingly lost on appeal. Over the next eight years, her case made it all the way to the Supreme Court, where she lost again. But Lilly continued to fight, and became the namesake of Barack Obama's first official piece of legislation as president. A winning memoir and a powerful call to arms, Grace and Grit is the story of a true American icon.
Hedy's Folly: The Life and Breakthrough Inventions of Hedy Lamarr, the Most Beautiful Woman in the World by Richard Rhodes
(amazon.com) Pulitzer Prize-winning author Richard Rhodes delivers a remarkable story of science history: how a ravishing film star and an avant-garde composer inventedspread-spectrum radio, the technology that made wireless phones, GPS systems, and many other devices possible.

Beginning at a Hollywood dinner table, Hedy's Folly tells a wild story of innovation that culminates in U.S. patent number 2,292,387 for a "secret communication system." Along the way Rhodes weaves together Hollywood's golden era, the history of Vienna, 1920s Paris, weapons design, music, a tutorial on patent law and a brief treatise on transmission technology. Narrated with the rigor and charisma we've come to expect of Rhodes, it is a remarkable narrative adventure about spread-spectrum radio's genesis and unlikely amateur inventors collaborating to change the world.
GENERAL DISCUSSION: Eighteen year old Hedy Lamarr's controversial role in the 1933European film, Ecstasy, acted as a sort of catapult to her early career. The nature of the role caused strife with her domineering husband and she fled the marriage not long after, meeting up serendipitously with Louis B. Mayer, of MGM fame, while in Paris.
Camille:The Life of Camille Claudel, Rodin's Muse and Mistress by Reine-Marie Paris
(Publisher's Weekly) An older sister of poet, playwright and diplomat Paul Claudel, beautiful, talented Camille Claudel (1864-1943), at the age of 20, became mistress, model and collaborator of Auguste Rodin, who admired her sculpture and was influenced by it. When she broke with Rodin, who refused to marry her, she continued to sculpt, paint and exhibit. But in time, living in poverty and semi-obscurity, she destroyed some of her work, her friendships and family ties, and became "nothing more than an anxious shadow hiding in the recesses of her dark studio, asking only for silence and oblivion." In 1913, Paul Claudel had his reclusive, paranoid, now unattractive sister incarcerated, and she remained in sanatoriums for the rest of her life. Interweaving family letters, this brief biography by her grandniece is timed to appear with the opening of an exhibition of her work at the National Museum of Women in the Arts. Photos not seen by PW. Copyright 1988 Reed Business Information, Inc.
GENERAL DISCUSSION: A wonderful film was based on the passionate affair of Claudel and Rodin, simply called Camille Claudel, and starring Isabelle Adjani and Gerard Depardieu.
Crowned in a Far Country: Portraits of Eight Royal Brides by HRH Princess Michael of Kent
(amazon.com) Though of eminent birth and status in their own right, the women of Crowned in a Far Country all left the countries of their birth to marry heirs to great thrones. They all shared an inbred sense of duty and a genuine desire to see it performed. None fought against what she saw as her destiny but only sought to fulfill it. Some were passionate, others less so. Some were good wives; some were caring mothers. They were all catalysts, the pivots of their worlds for a time.

More than just a window into the politics and power brokering of royal marriage, Crowned in a Far Country charts the transformations of privileged princesses into women of power and historical importance.
Girls to the Front: The True Story of the Riot Grrrl Revolution by Sara Marcus
(amazon.com) "For a Second Wave feminist like myself, Girls to the Front evokes wonderfully the way the generation after mine soaked up the promise and the punishment of feminist consciousness....A richly moving story." —Village Voice writer Vivian Gornick
Girls to the Front is the epic, definitive history of the Riot Grrrl movement—the radical feminist punk uprising that exploded into the public eye in the 1990s, altering America's gender landscape forever. Author Sara Marcus, a music and politics writer for Time Out New York, Slate.com, Pos, and Heeb magazine, interweaves research, interviews, and her own memories as a Riot Grrrl front-liner. Her passionate, sophisticated narrative brilliantly conveys the story of punk bands like Bikini Kill, Bratmobile, Heavens to Betsy—as well as successors like Sleater-Kinney, Partyline, and Kathleen Hanna's Le Tigre—and their effect on today's culture.
The Astronaut Wives Club: A True Story by Lily Koppel
(amazon.com) As America's Mercury Seven astronauts were launched on death-defying missions, television cameras focused on the brave smiles of their young wives. Overnight, these women were transformed from military spouses into American royalty. They had tea with Jackie Kennedy, appeared on the cover of Life magazine, and quickly grew into fashion icons.

Annie Glenn, with her picture-perfect marriage, was the envy of the other wives; platinum-blonde Rene Carpenter was proclaimed JFK's favorite; and licensed pilot Trudy Cooper arrived on base with a secret. Together with the other wives they formed the Astronaut Wives Club, meeting regularly to provide support and friendship. Many became next-door neighbors and helped to raise each other's children by day, while going to glam parties at night as the country raced to land a man on the Moon.

As their celebrity rose-and as divorce and tragic death began to touch their lives-they continued to rally together, and the wives have now been friends for more than fifty years. THE ASTRONAUT WIVES CLUB tells the real story of the women who stood beside some of the biggest heroes in American history.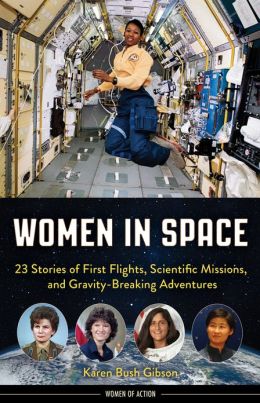 Women in Space: 23 Stories of First Flights, Scientific Missions, and Gravity-Breaking Adventures by Karen Bush Gibson
(amazon.com) When Valentina Tereshkova blasted off aboard Vostok 6 on June 16, 1963, she became the first woman to rocket into space. It would be 19 years before another woman got a chance—cosmonaut Svetlana Savitskaya in 1982—followed by American astronaut Sally Ride a year later. By breaking the stratospheric ceiling, these women forged a path for many female astronauts, cosmonauts, and mission specialists to follow.
Women in Space profiles 23 pioneers, including Eileen Collins, the first woman to command the space shuttle; Peggy Whitson, who logged more than a year in orbit aboard the International Space Station; and Mae Jemison, the first African American woman in space; as well as astronauts from Japan, Canada, Italy, South Korea, France, and more. Readers will also learn about the Mercury 13, American women selected by NASA in the late 1950s to train for spaceflight. Though they matched and sometimes surpassed their male counterparts in performance, they were ultimately denied the opportunity to head out to the launching pad. Their story, and the stories of the pilots, physicists, and doctors who followed them, demonstrate the vital role women have played in the quest for scientific understanding.
The Good Women of China: Hidden Voices by Xinran
(amazon.com) When Deng Xiaoping's efforts to "open up" China took root in the late 1980s, Xinran recognized an invaluable opportunity. As an employee for the state radio system, she had long wanted to help improve the lives of Chinese women. But when she was given clearance to host a radio call-in show, she barely anticipated the enthusiasm it would quickly generate.
Operating within the constraints imposed by government censors, "Words on the Night Breeze" sparked a tremendous outpouring, and the hours of tape on her answering machines were soon filled every night. Whether angry or muted, posing questions or simply relating experiences, these anonymous women bore witness to decades of civil strife, and of halting attempts at self-understanding in a painfully restrictive society. In this collection, by turns heartrending and inspiring, Xinran brings us the stories that affected her most, and offers a graphically detailed, altogether unprecedented work of oral history.