According to Encyclopaedia Britannica, "westerns, a genre of novels and short stories, motion pictures, and television and radio shows, are set in the American West, usually in the period from the 1850s to the end of the 19th century. Though basically an American creation, the western had its counterparts in the gaucho literature of Argentina and in tales of the settlement of the Australian outback. The genre reached its greatest popularity in the early and middle decades of the 20th century and declined somewhat thereafter (
http://www.britannica.com/EBchecked/topic/640481/western
)."
American writer Louis L'Amour (March 22, 1908-June 10, 1988) was "the best-selling author of more than 100 books. He was a world traveler who mined in the West, sailed aboard an East African schooner, lived with bandits in Tibet, and worked as an elephant handlers, a professional boxer, and a fruit picker before embarking on a career as a writer in the 1940s. His books sold 200 million copies in 20 languages, and at least 30 of his books formed the basis of films. In 1983 he became the first novelist to receive a
Congressional Gold Medal
, and in the following year he was awarded the
Presidential Medal of Freedom
(
http://www.britannica.com/EBchecked/topic/328818/Louis-LAmour
)."
The Genre Reading Group met last night to discuss his life and work and explore the mystique of the American west for ourselves!
The Haunted Mesa
(powells.com) The Navajo called them the Anasazi: an enigmatic race of southwestern cliff dwellers. For centuries, the sudden disappearance of this proud and noble people has baffled historians. Summoned to a dark desert plateau by a desperate letter form an old friend, renowned investigator Mike Raglan is drawn into a world of mystery, violence, and explosive revelation. Crossing the border beyond the laws of man and nature, he will learn the astonishing legacy of the Anasazi — but not without a price. Set in the contemporary Southwest, The Haunted Mesa draws on Louis L'Amour's extensive knowledge of Indian lore and mysticism. In this extraordinary book L'Amour tells a tale of epic adventure that takes his readers across the most extraordinary frontier they have ever encountered.
Rivers West
(powells.com) His dream was to build magnificent steamboats to ply the rivers of the American frontier. But when Jean Talon began his journey westward, he stumbled upon a deadly conspiracy involving a young woman's search to find her missing brother, and a ruthless band of renegades. Led by the brazen Baron Torville, this makeshift army of opportunists is plotting a violent takeover of the Louisiana Territory. Jean swears to find a way to stop this daring plan. If he doesn't, it will not only put an end to all his dreams; it will change the course of history and destroy the promise of the American frontier.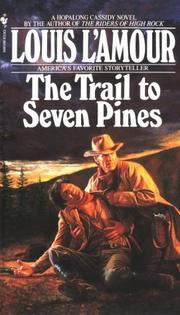 The Trail to Seven Pines
(powells.com) Hopalong rides into a firestorm of violence and betrayal. On the rain-drenched trail to the lawless town of Seven Pines, Hopalong discovers two men -- one dead, the other badly wounded. Returning with medical help, Hopalong finds the wounded man has been shot through the temple. Who would commit such a murder? To find out, Hopalong hires on at Bob Ronson's Rocking R Ranch. There he learns that more than a thousand cattle have been run off by men keeping one scheming eye on the ranch and the other on the monthly stagecoach shipments of gold. Hopalong is determined to stop those responsible. But even the best gunfighter needs men he can trust to watch his back, men willing to risk their lives to do what's right. With their help, Hopalong fights to save the Rocking R, only to find himself the target of a ruthless gunman in a life-and-death struggle for frontier justice.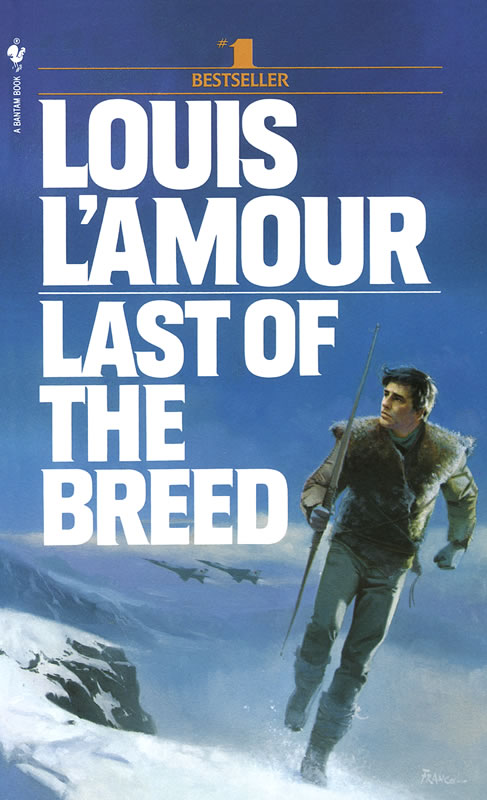 Last of the Breed
(powells.com) This is the compelling story of U.S. Air Force Major Joe Mack, a man born out of time. When his experimental aircraft is forced down in Russia and he escapes a Soviet prison camp, he must call upon the ancient skills of his Indian forebears to survive the vast Siberian wilderness. Only one route lies open to Mack: the path of his ancestors, overland to the Bering Strait and across the sea to America. But in pursuit is a legendary tracker, the Yakut native Alekhin, who knows every square foot of the icy frontier—and who knows that to trap his quarry he must think like a Sioux.
Beyond the Great Snow Mountains
(powells.com) From the American West to the Siberian coast, from Hollywood to the boxing ring, here are timeless tales of war, mystery, romance, crime, and punishment as only Louis L'Amour can tell them. These stories are vintage L'Amour: A hard-bitten cattle driver is pitted against a man trying to steal his woman, the disappearance of a thousand head of cattle, and a plot to frame him for murder....A private eye visits a remote mining town on a case involving a sexy widow, an uneasy lawman, and a fortune in gold buried in an abandoned mine shaft....A country boy with a good right hand must fight not only his vicious opponent in the ring but the ruthless gangsters who'll do anything for profit-even commit cold-blooded murder....A young woman stranded in an isolated harbor must survive the wilderness and a brutal battle of wits with a sadistic fortune hunter. Here is the trademark blend of action, suspense, historical detail, and unforgettable characters that have made Louis L'Amour one of the world's most extraordinary writers.
Hondo
(powells.com) He was etched by the desert's howling winds, a big, broad-shouldered man who knew the ways of the Apache and the ways of staying alive. She was a woman alone raising a young son on a remote Arizona ranch. And between Hondo Lane and Angie Lowe was the warrior Vittoro, whose people were preparing to rise against the white men. Now the pioneer woman, the gunman, and the Apache warrior are caught in a drama of love, war, and honor.
Hondo
(DVD, 1953)
(rottentomatoes.com) Hondo is so "perfect" a John Ford western that many people assume it was directed by John Ford--or at the very least, Andrew McLaglen. Actually the director was suspense expert John Farrow, who worked with the "Duke" only twice in his career (the second film was an oddball war drama, The Sea Chase [55]). In Hondo, John Wayne plays a hard-bitten cavalry scout who is humanized by frontierswoman Geraldine Page and her young son (Lee Aaker, star of TV's Rin Tin Tin). Try as he might, Wayne can't convince Page to move off her land in anticipation of an Apache attack. He leaves her ranch, only to be ambushed by desperado Leo Gordon--who happens to be Page's long-absent husband. Having killed Gordon, Hondo returns to the ranch to protect Page from the Indians, and to rekindle the woman's hesitant love for him. The climactic attack sequence is enhanced by Hondo's 3-D photography, one of the few truly effective utilizations of this much-maligned process. Long unavailable thanks to the labyrinthine legal tangles of the John Wayne estate, Hondo was finally released to videotape in the early 1990s. ~ Hal Erickson, Rovi
I challenge you to read a western this summer!
Holley