Just a reminder that the library and surrounding lots will be closed on Wednesday, August 3rd for HVAC replacement!


The next GRG meeting will be on Tuesday, August 30th at 6:30pm and the topic up for discussion is one of my favorites, debut novels!


Last week, the GRG discussed music and the music industry. We kicked things off with a rousing discussion of the evolution of portable music from the wax record to the current MP3 market. The discussion jumpstarted because one member found that each character from a favorite TV show, Halt & Catch Fire, had been given a playlist by Spotify, an online music streaming service.


80's Tech
(History Channel documentary)
Remember "brick" cell phones, Pac-Man, Rubik's Cube, Sony Walkman, and the first music CDs? Remember all the new and exciting gadgets of the 1980s? Join us as we investigate the transition from Industrial to Information Age--a digital decade dedicated to ergonomics and entertainment. The microchip ushered in an era that revolutionized the way we work, play, and communicate. And we tour Silicon Valley--birthplace of some of the greatest inventions from an amazing time of change, including the modern personal computer. Steve "Woz" Wozniak tells us about the evolution of Apple computers, and we talk to Sony--makers of the Walkman, Betamax, and the first CD players. A visit to the Computer History Museum shows fun technological "artifacts", primitive by today's standards. At Intel, makers of the first microchips, we learn why technology moves at such a fast pace. We also take a ride in a DeLorean DMC-12 sports car--few things moved faster.


Playback is the first book to place the fascinating history of sound reproduction within its larger social, economic, and cultural context-and includes appearances by everyone from Thomas Edison to Enrico Caruso to Dick Clark to Grandmaster Flash to Napster CEO Shawn Fanning. In a narrative that begins with Edison's cylinder and ends with digital music, the ubiquitous iPod, and the file-sharing wars, this is a history we have all experienced in one way or another. From the Victrola, the 78, the 45, and the 33 1/3 to the 8-track, cassette, compact disc, DAT, and MP3, the story of Playback is also the story of music, and the music business in the twentieth century and beyond.


Retromania: Pop Culture's Addiction to Its Own Past
by Simon Reynolds
We live in a pop age gone loco for retro and crazy for commemoration. Band re-formations and reunion tours, expanded reissues of classic albums and outtake-crammed box sets, remakes and sequels, tribute albums and mash-ups . . . But what happens when we run out of past? Are we heading toward a sort of cultural, ecological catastrophe where the archival stream of pop history has been exhausted?


Simon Reynolds, one of the finest music writers of his generation, argues that we have indeed reached a tipping point, and that although earlier eras had their own obsessions with antiquity―the Renaissance with its admiration for Roman and Greek classicism, the Gothic movement's invocations of medievalism―never has there been a society so obsessed with the cultural artifacts of its own immediate past. Retromania is the first book to examine the retro industry and ask the question: Is this retromania a death knell for any originality and distinctiveness of our own?
U2: Rattle and Hum
(rockumentary)
A concert movie on an unprecedented scale. Rattle And Hum captures U2 - on and off the stage - during their triumphant Joshua Tree tour.
Stevie Nicks: In Your Dreams (rockumentary)
Decadent rock star, 70s survivor, gypsy songbird, white-winged dove the inimitable Stevie Nicks has entranced millions of fans worldwide with her poetic lyrics, sultry singing and featherand-lace style. In 2010 Nicks embarked on the recording of solo album, In Your Dreams, produced by former Eurythmics mastermind Dave Stewart. With cameras in tow, documentarian Stewart and diva Nicks set up shop in her home studio and reveal their collaborative creative process. Shifting dynamically among video formats, painstaking recording sessions and revealing interviews, this magic-tinged musical journey is a loving and tuneful portrait of the eternally bewitching Gold Dust Woman.
The Doors
(DVD)
Oliver Stone's biopic of the famous and influential 1960s rock band and its lead singer and composer, Jim Morrison, from his days as a UCLA film student in Los Angeles, to his untimely death in Paris, France at age 27 in 1971.
M Train
by Patti Smith
From the National Book Award–winning author of
JustKids
: an unforgettable odyssey of a legendary artist, told through the prism of the cafés and haunts she has worked in around the world. It is a book Patti Smith has described as "a roadmap to my life."
M Train
begins in the tiny Greenwich Village café where Smith goes every morning for black coffee, ruminates on the world as it is and the world as it was, and writes in her notebook. Through prose that shifts fluidly between dreams and reality, past and present, and across a landscape of creative aspirations and inspirations, we travel to Frida Kahlo's Casa Azul in Mexico; to a meeting of an Arctic explorer's society in Berlin; to a ramshackle seaside bungalow in New York's Far Rockaway that Smith acquires just before Hurricane Sandy hits; and to the graves of Genet, Plath, Rimbaud, and Mishima.
Woven throughout are reflections on the writer's craft and on artistic creation. Here, too, are singular memories of Smith's life in Michigan and the irremediable loss of her husband, Fred Sonic Smith.
Braiding despair with hope and consolation, illustrated with her signature Polaroids,
M Train
is a meditation on travel, detective shows, literature, and coffee. It is a powerful, deeply moving book by one of the most remarkable multiplatform artists at work today.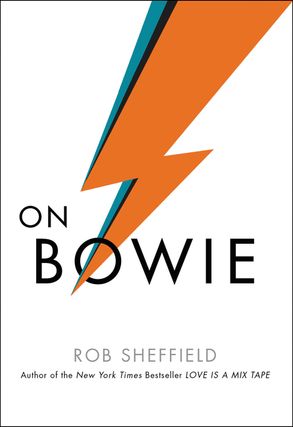 On Bowie
by Rob Sheffield
From the
New York Times
bestselling author of
Love Is a Mix Tape
, a thoughtful and loving meditation on the life of the late David Bowie that explores his creative legacy and the enduring and mutual connection he enjoyed with his fans
Innovative. Pioneering. Brave. Until his death in January 2016, David Bowie created art that not only pushed boundaries, but helped fans understand themselves and view the world from fantastic new perspectives.
When the shocking news of his death on January 10, 2016 broke, the outpouring of grief and adulation was immediate and ongoing. Fans around the world and across generations paid homage to this brilliant, innovate, ever evolving artist who both shaped and embodied our times.
In this concise and penetrating book, featuring color photographs, highly regarded Rolling Stone critic, bestselling author, and lifelong Bowie fan Rob Sheffield shares his own feelings about the passing of this icon and explains why Bowie's death has elicited such an unprecedented emotional outpouring from so many lives.
Amy
(rockumentary)
From BAFTA award--winning director Asif Kapadia (SENNA), AMY is the incredible story of six--time Grammy(R) award winner
Amy Winehouse
- in her own words. Featuring extensive never-before-seen archival footage and previously unheard tracks, this strikingly modern, moving, and vital film shines a light on the world we live in, in a way that very few can.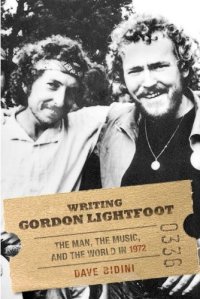 Writing Gordon Lightfoot: The Man, the Music, and the World in 1972
by Dave Bidini
From acclaimed musician and author Dave Bidini comes a brilliantly original look at a folk-rock legend and the momentous week in 1972 that culminated in the Mariposa Folk Festival.

July, 1972. As musicians across Canada prepare for the nation's biggest folk festival, held on Toronto Island, a series of events unfold that will transform the country politically, psychologically--and musically. As Bidini explores the remarkable week leading up to Mariposa, he also explores the life and times of one of the most enigmatic figures in Canadian music: Gordon Lightfoot, the reigning king of folk at the height of his career. Through a series of letters, Bidini addresses Lightfoot directly, questioning him, imagining his life, and weaving together a fascinating, highly original look at a musician at the top of his game. By the end of the week, the country is on the verge of massive change and the '72 Mariposa folk fest--complete with surprise appearances by Bob Dylan, Neil Young, Joni Mitchell, and yes, Lightfoot--is on its way to becoming legendary.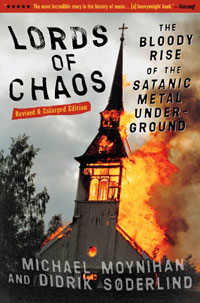 Lords of Chaos: The Bloody Rise of the Satanic Metal Underground
by Michael Moynihan and Didrik Soderlind
Chronicling the rise of the Black Metal subculture and the terrifying violence by its fans, Lords of Chaos takes readers on a tour of this antisocial, occult-influenced ideology that encourages violence and murder.
What are YOU reading?