The Library will be closed Saturday, September 1st through Monday, September 3rd in observance of Labor Day and will reopen at 9am Tuesday, September 4th.
Winter Hours have resumed: Monday, Tuesday, and Thursday 9am-9pm, Wednesday 9am-6pm, Friday and Saturday 9am-5pm, and Sunday 1pm-5pm.
Upcoming Events:
- Yoga with Marie Blair Tuesday, September 4th and 18th 10am-11am in the Community Meeting Room
- Brown Bag Lunch series each Wednesday at 12:30pm in the Community Meeting Room
- Bookgroups:
-----Great Short Stories Monday 8/10 at 6:30pm
-----Bookies Tuesday 8/11 at 10am discussing "As I Lay Dying" by William Faulkner
-----Genre Reading Group 8/25 at 6:30pm discussing banned & challenged books
-----Lost & Found group 8/27 @ 6:30pm discussing "In Youth is Pleasure" by Denton Welch and "I Capture the Castle" by Dodie Smith
-UAB Neuroscience Café discussing "The Brain-Gut Connection," the connection between Parkinson's disease and the microbiome of the gut, Thursday September 13th 6:30pm in the Community Meeting Room
- Stargazing on the Lawn led by experts from Samford University's Christenberry Planetarium, all ages welcome Tuesday September 18th at 7pm
- Ages 21 and up only: Standing Room Only presents a karaoke party Friday September 21st 6:30pm in the Community Meeting Room
- Ages 21 and up only: Western Fall Wine and Food Festival Friday September 28th at the Birmingham Zoo 6pm-9pm, tickets available at Western Supermarkets and online at
www.westernsupermarkets.com
.
Last night, the Genre Reading Group met to discuss microtopic books!
Part science, part riveting historical adventure about one of the great scourges to afflict mankind

Every year malaria kills 1.5 to 2.7 million people -- more than half of those deaths are children -- and 300 to 500 million people fall ill with the disease. As of yet, there is no cure. Malaria is a deadly virus with a vicious ability to mutate; it has, over the centuries, changed the course of history as epidemics swept through countries and devastated armies.

Until the middle of the seventeenth century, little was understood about the nature of the disease, or how to treat it. But there was a legend about a beautiful Spanish countess, the Condesa de Chinchón, who was cured of malaria during her stay in Peru by drinking a medicine made from the bark of a miraculous tree. This is the story of the search for the elusive cinchona tree - the only source of quinine - and the trio of British explorers who were given the task of transporting it to the colonies. On a quest that was to absorb the rest of their lives, Spruce, Ledger and Markham endeavored to rid the world of malaria.

But although quinine, and its chemical successors, managed to control malaria for a time, no method of prevention has been proven to be 100% effective. In laboratories and research facilities, the hunt continues - this time for a vaccine.

The Fever Trail is a story of courage, of geopolitical rivalry, of the New World against the Old, of the fabled curse of the cinchona tree - and of a disease that eludes all efforts to contain it.
The American chestnut was one of America's most common, valued, and beloved trees―a "perfect tree" that ruled the forests from Georgia to Maine. But in the early twentieth century, an exotic plague swept through the chestnut forests with the force of a wildfire. Within forty years, the blight had killed close to four billion trees and left the species teetering on the brink of extinction. It was one of the worst ecological blows to North America since the Ice Age―and one most experts considered beyond repair.
In American Chestnut, Susan Freinkel tells the dramatic story of the stubborn optimists who refused to let this cultural icon go. In a compelling weave of history, science, and personal observation, she relates their quest to save the tree through methods that ranged from classical plant breeding to cutting-edge gene technology. But the heart of her story is the cast of unconventional characters who have fought for the tree for a century, undeterred by setbacks or skeptics, and fueled by their dreams of restored forests and their powerful affinity for a fellow species.
"A glorious success…The science manages to be as exciting and spellbinding as the juiciest gossip" (San Franscisco Chronicle) in the story of the discovery of "Lucy"—the oldest, best-preserved skeleton of any erect-walking human ancestor ever found.

When Donald Johanson found a partical skeleton, approximately 3.5 million years old, in a remote region of Ethiopia in 1974, a headline-making controversy was launched that continues on today. Bursting with all the suspense and intrigue of a fast paced adventure novel, here is Johanson's lively account of the extraordinary discovery of "Lucy." By expounding the controversial change Lucy makes in our view of human origins, Johanson provides a vivid, behind-the-scenes account of the history of pealeoanthropology and the colorful, eccentric characters who were and are a part of it. Never before have the mystery and intricacy of our origins been so clearly and compellingly explained as in this astonighing and dramatic book.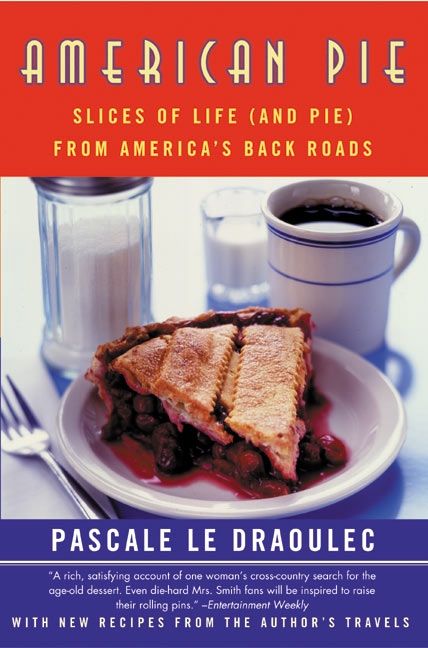 Crossing class and color lines, and spanning the nation (Montana has its huckleberry, Pennsylvania its shoofly, and Mississippi its sweet potato), pie -- real, homemade pie -- has meaning for all of us. But in today's treadmill, take-out world -- our fast-food nation -- does pie still have a place?
As she traveled across the United States in an old Volvo named Betty, Pascale Le Draoulec discovered how merely mentioning homemade pie to strangers made faces soften, shoulders relax, and memories come wafting back. Rambling from town to town with Le Draoulec, you'll meet the famous, and sometimes infamous, pie makers who share their stories and recipes, and find out how a quest for pie can lead to something else entirely.
GENERAL DISCUSSION: This book group member brought in a pie, made from a treasured family recipe, and shared that recipe with us, so I'm now sharing it with you!
(With her permission, of course!)
No-Bake Brandy Pie
For convenience, use a store-bought graham cracker crust. Mix the following together until fluffy: 1 c whipped cream, ½ c powdered sugar, and ¼ c brandy.
In a separate bowl, beat 4 eggs until light yellow but still thick. Fold in the cream mixture, then pour into pie crust. Freeze 12-24 hours.
A cultural "biography" of Robert Frost's beloved poem, arguably the most popular piece of American literature

"Two roads diverged in a yellow wood . . ." One hundred years after its first publication in August 1915, Robert Frost's poem "The Road Not Taken" is so ubiquitous that it's easy to forget that it is, in fact, a poem. Yet poetry it is, and Frost's immortal lines remain unbelievably popular. And yet in spite of this devotion, almost everyone gets the poem hopelessly wrong.

David Orr's The Road Not Taken dives directly into the controversy, illuminating the poem's enduring greatness while revealing its mystifying contradictions. Widely admired as the poetry columnist for the New York Times Book Review, Orr is the perfect guide for lay readers and experts alike. Orr offers a lively look at the poem's cultural influence, its artistic complexity, and its historical journey from the margins of the First World War all the way to its canonical place today as a true masterpiece of American literature.

"The Road Not Taken" seems straightforward: a nameless traveler is faced with a choice: two paths forward, with only one to walk. And everyone remembers the traveler taking "the one less traveled by, / And that has made all the difference." But for a century readers and critics have fought bitterly over what the poem really says. Is it a paean to triumphant self-assertion, where an individual boldly chooses to live outside conformity? Or a biting commentary on human self-deception, where a person chooses between identical roads and yet later romanticizes the decision as life altering?

What Orr artfully reveals is that the poem speaks to both of these impulses, and all the possibilities that lie between them. The poem gives us a portrait of choice without making a decision itself. And in this, "The Road Not Taken" is distinctively American, for the United States is the country of choice in all its ambiguous splendor.

Published for the poem's centennial—along with a new Penguin Classics Deluxe Edition of Frost's poems, edited and introduced by Orr himself—The Road Not Taken is a treasure for all readers, a triumph of artistic exploration and cultural investigation that sings with its own unforgettably poetic voice.
In novella form, Irving Stone here revivifies the creation of Michelangelo's great Pieta, completed when the sculptor was twenty-four years old. He sketches the sculptor's early apprenticeships, follows him to Rome. There under the patronage of Jacopo Galli for whom he sculpts the Bacchus, Michelangelo receives the radically different commission from the French Cardinal Groslaye, to fill the niche of the Chapel of the Kings of France with a Pieta. Simply told, this is the tale of dedication and sacrifice culminating not in glory but in the secret placing of the Pieta in its intended niche with Groslaye dead in the meantime.
At once sobering and thrilling, this illustrated history recounts how, for the past three hundred years, hurricanes have altered lives and landscapes along the Georgia-South Carolina seaboard. A prime target for the fierce storms that develop in the Atlantic, the region is especially vulnerable because of its shallow, gradually sloping sea floor and low-lying coastline.
With an eye on both natural and built environments, Fraser's narrative ranges from the first documented storm in 1686 to recent times in describing how the lowcountry has endured some of the severest effects of wind and water. This chronology of the most notable lowcountry storms is also a useful primer on the basics of hurricane dynamics.
Fraser tells how the 800-ton Rising Sun foundered in open water near Charles Town during the hurricane of 1700. About one hundred persons were aboard. All perished. Drawing on eyewitness accounts, he describes the storm surge of an 1804 hurricane that submerged most of Tybee Island and swept over the fort on nearby Cockspur Island, drowning soldiers and civilians. Readers may have their own memories of Hurricanes Andrew, Opal, and Hugo. Although hurricanes frequently lead to significant loss of life, Fraser recounts numerous gripping instances of survival and rescue at sea and ashore.
The author smoothly weaves the lowcountry's long social, political, and economic history with firsthand reports and data accumulated by the National Weather Service and the National Oceanic and Atmospheric Administration. Generously illustrated with contemporary and historical photographs, this is a readable and informative resource on one of nature's most awesome forces.