The next Genre Reading Group meeting will be Tuesday, July 29th at 6:30pm in the Library's conference room and the topic of discussion will be travel, vacations, and national parks! Read, watch, and/or listen to anything within that topic range and come tell us about it!
Last week, we met for a discussion of books and films about LGBT History month. GRG members brought in a great diversity of material to talk about and I'm excited to share it with you here!
American Savage: Insights, Slights, and Fights on Faith, Sex, Love, and Politics
by Dan Savage
(Powell's) On the heels of his Emmy-winning
It Gets Better
campaign, columnist and provocateur Dan Savage weighs in on such diverse issues as healthcare, gun control, and marriage equality with characteristic straight talk and humor.
Dan Savage has always had a loyal audience, thanks to his syndicated sex-advice column "Savage Love," but since the incredible global success of his
It Gets Better
project —
his book of the same name was a New York Times bestseller
— his profile has skyrocketed. In addition, he's written for The New York Times, Rolling Stone, The Onion, GQ, The Guardian, Salon.com, and countless other widely read publications. Savage is recognized as someone whose opinions about our culture, politics, and society should not only be listened to but taken seriously. Now, in
American Savage
, he writes on topics ranging from marriage, parenting, and the gay agenda to the Catholic Church and sex education.
Jacob's New Dress
by Sarah and Ian Hoffman, illustrated by Chris Case
(Powell's) Jacob loves playing dress-up, when he can be anything he wants to be. Some kids at school say he can't wear "girl" clothes, but Jacob wants to wear a dress to school. Can he convince his parents to let him wear what he wants? This heartwarming story speaks to the unique challenges faced by boys who don't identify with traditional gender roles.
Totally Joe
by James Howe
(Powell's) Meet Joe Bunch. Lovable misfit and celebrity wannabe from Paintbrush Falls, New York. Like his longtime best friends Addie, Skeezie, and Bobby, Joe's been called names all his life. So when he's given the assignment to write his alphabiography — the story of his life from A to Z — Joe has his doubts. This whole thing could be serious ammunition for bullying if it falls into the wrong hands.
But Joe discovers there's more to the assignment — and his life — than meets the eye. Especially when he gets to the letter C, which stands for Colin Briggs, the coolest guy in the seventh grade (seriously) — and Joe's secret boyfriend. By the time Joe gets to the letter Z, he's pretty much bared his soul about everything. And Joe's okay with that because he likes who he is. He's Totally Joe, and that's the best thing for him to be.
Here is an exuberant, funny, totally original story of one boy's coming out — and coming-of-age.
See You at Harry's
by Jo Knowles
(Powell's) Twelve-year-old Fern feels invisible. It seems as though everyone in her family has better things to do than pay attention to her: Mom (when shes not meditating) helps Dad run the family restaurant; Sarah is taking a gap year after high school; and Holden pretends that Mom and Dad and everyone else doesnt know hes gay, even as he fends off bullies at school. Then theres Charlie: three years old, a "surprise" baby, the center of everyones world. Hes devoted to Fern, but he's annoying, too, always getting his way, always dirty, always commanding attention. If it wasnt for Ran, Ferns calm and positive best friend, thered be nowhere to turn. Ran's mantra, "All will be well," is soothing in a way that nothing else seems to be. And when Ran says it, Fern can almost believe its true. But then tragedy strikes- and Fern feels not only more alone than ever, but also responsible for the accident that has wrenched her family apart. All will not be well. Or at least all will never be the same.
GENERAL DISCUSSION: A reader made mention of a great online resource for children's books,
The Cooperative Children's Book Center
(http://ccbc.education.wisc.edu/ccbcnet). In their archives she found a great list of LGBTQ literature for children and teens. You must be a member to access the archives but, if you are interested, that seems as easy as providing your email address and making up a password.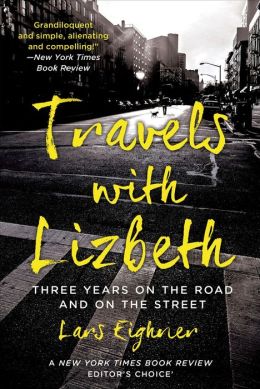 Travels with Lizbeth: Three Years on the Road and on the Streets
by Lars Eighner
(Powell's) When
Travels with Lizbeth
was first published in 1993, it was proclaimed an instant classic. Lars Eighners account of his descent into homelessness and his adventures on the streets has moved, charmed, and amused generations of readers. As Lars wrote, "When I began writing this account I was living under a shower curtain in a stand of bamboo in a public park. I did not undertake to write about homelessness, but wrote what I knew, as an artist paints a still life, not because he is especially fond of fruit, but because the subject is readily at hand."
Containing the widely anthologized essay "On Dumpster Diving,"
Travels with Lizbeth
is a beautifully written account of one man's experience of homelessness, a story of physical survival, and the triumph of the artistic spirit in the face of enormous adversity. In his unique voice; dry, disciplined, poignant, comic; Eighner celebrates the companionship of his dog, Lizbeth, and recounts their ongoing struggle to survive on the streets of Austin, Texas, and hitchhiking along the highways to Southern California and back.
The Gay 100: A Ranking of the Most Influential Gay Men and Lesbians, Past and Present
by Paul Russell
(Powell's) At once uplifting and heart-wrenching, these 100 portraits capture the real people behind the legends and affirm that gay men and lesbians have been an integral part of history from ancient times through the present day--ensuring that those who will follow in their footsteps face a future that is brighter than ever before. 100 photos.
A Little Gay History: Desire and Diversity Across the World
by R. B. Parkinson
(Powell's) "Through meticulous research and compassionate narration, British Museum curator Parkinson (Voices from Ancient Egypt) brings to light a collection of art objects from the British Museum's collection that illustrate same-sex desire, many of which had previously been censored or concealed from historians. These 40 objects come from various civilizations and eras, some being clear-cut examples of same-sex love, such as Grecian urns decorated with homoerotic scenes, the poetry of Sappho, and the Roman Emperor Hadrian's well-documented affair with the young Antinous. Other pieces are more ambiguous: artistic renderings that suggest love between Samurai warriors; an Ancient Egyptian tomb that may have been made for a same-sex couple; and Shakespearean sonnets that allude to 'bisexual' relationships. The book also includes brief, captivating profiles of gay and lesbian artists, including the sculptors Hedwig Marquardt and Augusta Kaiser, and novelist Virginia Woolf. The long history of intolerance is interwoven through the artwork as well, and while facts surrounding the persecution and execution of 'sodomites' are unsettling, the book is not overtly political. Parkinson successfully shows that same-sex love and desire are an integral part of human history: 'On a long view, no one occupies the centre. It belongs to all of us.' 80 color photos. (Sept.)" Publishers Weekly Copyright PWxyz, LLC. All rights reserved.
The Normal Heart
by Larry Kramer
(Powell's) A searing drama about public and private indifference to the AIDS plague and one man's lonely fight to awaken the world to the crisis. Produced to acclaim in New York, London and Los Angeles,
The Normal Heart
follows Ned Weeks, a gay activist enraged at the indifference of public officials and the gay community. While trying to save the world from itself, he confronts the personal toll of AIDS when his lover dies of the disease.
The Picture of Dorian Gray
by Oscar Wilde
(Powell's) The Picture of Dorian Gray was a succès de scandale. Early readers were shocked by its hints at unspeakable sins and the book was later used as evidence
against Wilde at the Old Bailey in 1895
.
Enthralled by his own exquisite portrait, Dorian Gray makes a Faustian bargain to sell his soul in exchange for eternal youth and beauty. Under the influence of Lord Henry Wotton, he is drawn into a corrupt double life, where he is able to indulge his desires while remaining a gentleman in the eyes of polite society. Only Dorian's picture bears the traces of his decadence. A knowing account of a secret life and an analysis of the darker side of late Victorian society,
The Picture of Dorian Gray
offers a disturbing portrait of an individual coming face to face with the reality of his soul.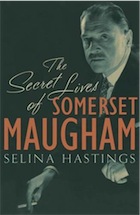 The Secret Lives of Somerset Maugham
by Selena Hastings
(Powell's) He was a brilliant teller of tales, one of the most widely read authors of the twentieth century, and at one time the most famous writer in the world, yet W. Somerset Maugham's own true story has never been fully told. At last, the fascinating truth is revealed in a landmark biography by the award-winning writer Selina Hastings. Granted unprecedented access to Maugham's personal correspondence and to newly uncovered interviews with his only child, Hastings portrays the secret loves, betrayals, integrity, and passion that inspired Maugham to create such classics as
The Razor's Edge
and
Of Human Bondage
.
Hastings vividly presents Maugham's lonely childhood spent with unloving relatives after the death of his parents, a trauma that resulted in shyness, a stammer, and for the rest of his life an urgent need for physical tenderness. Here, too, are his adult triumphs on the stage and page, works that allowed him a glittering social life in which he befriended and sometimes fell out with such luminaries as Dorothy Parker, Charlie Chaplin, D. H. Lawrence, and Winston Churchill.
The Secret Lives of Somerset Maugham
portrays in full for the first time Maugham's disastrous marriage to
Syrie Wellcome
, a manipulative society woman of dubious morality who trapped Maugham with a pregnancy and an attempted suicide. Hastings also explores Maugham's many affairs with men, including his great love,
Gerald Haxton
, an alcoholic charmer and a cad. Maugham's courageous work in secret intelligence during two world wars is described in fascinating detail—experiences that provided the inspiration for the groundbreaking Ashenden stories. From the West End to Broadway, from China to the South Pacific, Maugham's restless and remarkably productive life is thrillingly recounted as Hastings uncovers the real stories behind such classics as "
Rain
,"
The Painted Veil
,
Cakes & Ale
, and other well-known tales.
An epic biography of a hugely talented and hugely conflicted man,
The Secret Lives of Somerset Maugham
is the definitive account of Maugham's extraordinary life.
The Marriage Act: The Risk I Took to Keep My Best Friend in America, and What It Taught Us about Love
by Liza Monroy
(Powell's) After her traditional engagement to her high school sweetheart falls apart, Liza Monroy faced the prospect of another devastating loss: the deportation of her best friend Emir. Desperate to stay in America, Emir tried every legal recourse to obtain a green card knowing that his return to the Middle East — where gay men are often beaten and sometimes killed — was too dangerous. So Liza proposes to Emir in efforts to keep him safe and by her side. After a fast wedding in Las Vegas, the couple faces new adventures and obstacles in both L.A. and New York City as they dodge the INS. Their relationship is compounded further by the fact that Liza's mother works for the State Department preventing immigration fraud. Through it all, Liza and Emir must contend with professional ambition, adversity, and heartbreak and eventually learn the true lessons of companionship and devotion. This marriage that was not a marriage, in the end, really was.
The Marriage Act
is a timely and topical look at the changing face of marriage in America and speaks to the emergent generation forming bonds outside of tradition — and sometimes even outside the law.
The Greeks and Greek Love: A Bold New Exploration of the Ancient World
by James Davidson
(Amazon) For nearly two thousand years, historians have treated the subject of homosexuality in ancient Greece with apology, embarrassment, or outright denial. Now classics scholar James Davidson offers a brilliant, unblushing exploration of the passion that permeated Greek civilization. Using homosexuality as a lens, Davidson sheds new light on every aspect of Greek culture, from politics and religion to art and war. With stunning erudition and irresistible wit–and without moral judgment–Davidson has written the first major examination of homosexuality in ancient Greece since the dawn of the modern gay rights movement.
Sappho and the Greek Lyric Poets
translated and annotated by Willis Barnstone
(Barnes & Noble) Willis Barnstone has augmented his widely used anthology of the Greek lyric poets with eleven newly attributed Sappho poems, making this the most complete offering of Sappho in English. Two new sections -- "Sources and Notes" and "Sappho: Her Life and Poems" -- provide the student with the classical sources and an appraisal of this greatest of Western women poets.
Barnstone's lucid, elegant translations include a representative sampling of all the significant Greek lyric poets, from Archilochus, in the seventh century B.C., through Pindar ("prince of choral poets") and the other great singers of the classical age, down to the Hellenistic, Roman, and Byzantine periods. William McCulloh's introduction illuminates the forms and development of the Greek lyric. Barnstone introduces each poet with a brief biographical and literary sketch. The critical apparatus includes a glossary, index, bibliography, and concordance. (The reader focused on Sappho's life from a poetic and prose perspective instead of a biographical perspective)
The Kids Are All Right
(2010 feature film)
(IMDB) Nic and Jules are in a long term, committed, loving but by no means perfect relationship. They have two teen-aged children, Joni and Laser, Nic who is Joni's biological mother, and Jules who is Laser's biological mother. Although not exact replicas, each offspring does more closely resemble his/her biological mother in temperament. Joni and Laser are also half-siblings, having the same unknown sperm donor father. Shortly after Joni's eighteenth birthday and shortly before she plans to leave the house and head off to college, Laser, only fifteen and underage to do so, pleads with her to try and contact their sperm donor father.
The Codes of Hammurabi and Moses: With Copious Comments, Index, and Bible References
by W. W. Davies
(Powell's) The discovery of the
Hammurabi Code
is one of the greatest achievements of archaeology, and is of paramount interest, not only to the student of the Bible, but also to all those interested in ancient history. (The reader focused on one of the first written documentations of lesbians (called "daughter-men" in the text) having equal rights as men; well before the Old Testament was codified.)
"
Hir
," a poem about transgendered youth (Youtube, http://youtu.be/IRLSgPQG0c4)
Boy Meets Girl
, transgender comedy with filmmaker Eric Schaeffer (Youtube, http://youtu.be/LtT1UfrvLDg)
Boy Meets Girl
is a very poignant, human, sexy, romantic coming of age comedy about three twenty year-olds living in Kentucky: A boy, his best friend, a transgender girl, and the debutante they strike up a friendship with. It is sex/human positive and identification with it's story crosses all gender, race and sexual orientation lines. [Unreleased so far.] Lead actress,
Chelle Hendley's YouTube channel
, https://www.youtube.com/user/NoNittaWigg/featured.
What are YOU reading?
Holley